Creative backing!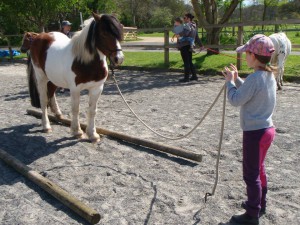 When trying to progress and improve something we have been working on, it's easy to get predatorial and direct line!  Remember to isolate, separate and recombine.
When practising the backup, work on improving the straightness, lightness and speed as separate ingredients so as not to cause your horse to get confused or feel unsuccessful.
A great fun way to improve straightness is to back crooked!  By learning to back your horse through a weave or an L shape, you will learn to get control over the HQ and FQ hence making it easier to back straight when desired.
A good way to do this is to keep your horses nose pointing toward to your chest and to move the FQ to steer the horse.  You will have to move your position accordingly and point your belly button in the direction you want your horse to back.  It's important to keep your horses feet moving backwards so they don't get stuck, but keep your phases gentle and encouraging rather than upping them if your horse doesn't understand.