Happy New Year to your herd from ours!
It's easy to get uninspired and overwhelmed by the mud, bad weather and shorter days.  
So keep your horse interested by teaching him something new in 15 minutes.  Pick something that you can teach in the yard or stable if the field is too wet and you don't have an arena.
Remember it's not about the trick, more about the connection, relationship and spending time together that counts.  Reward often and have fun!
Some suggestions are hold your horses tongue, teach your horse to put his foot on something, lift a leg by tapping it, take your hat off and give it back to you, kick a ball,
halter from your knees to name a few.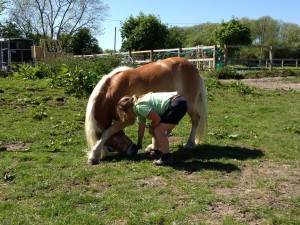 Use your imagination and pick something that is level appropriate for your horse.  Feel free to send me a photo or video and I'll add it to the website to inspire others.
Click here for some "can you's" to inspire you