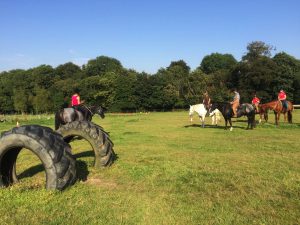 Private/shared lessons are a great way to focus on more specific areas of your horsemanship and
students of slightly different levels can be accommodated together.
Please note: in order to make the most of your lesson/clinic, the basic equipment of a halter, training stick and string, and 12′ and/or 22′ line would be helpful.
Equipment may be borrowed, please ask when booking.
I regularly teach in W.Sussex, E.Sussex, Surrey, Kent and abroad. I am happy to travel to
you or you can bring your horse to my yard in Hurstpierpoint, W.Sussex.
Don't have your own horse or would like to learn with an experienced horse? No problem, my wonderful schoolmistresses are available for ground work lessons at my yard.
Tuition Fees

Number of
Students

Cost Per Day

Cost Per
Student

Cost Per Half Day

Cost Per
Student

(Full day 6 hours)

(Full day 6 hours)

(Half day 3 hours)

(Half day 3 hours)

1

£260

£260

£130

£130

2

£300

£150

£150

£75

3

£360

£120

£180

£60

4

£400

£100

£200

£50
Full day = tuition fee plus travel costs as below.
Half day = may not available if further than 60 miles from Hurstpierpoint, unless by special arrangement. Travel costs apply.
Shorter lessons are available to local students only depending on distance travelled.  Ask me for tuition costs.
Lessons at my yard can be of any length and are slightly cheaper. Contact me for
details.
Travel costs: No cost up to 30 miles from Hurstpierpoint, West Sussex, thereafter 40p per mile.
Please contact me to discuss your needs or to book a private/shared lesson
info@1withyourhorse.com.