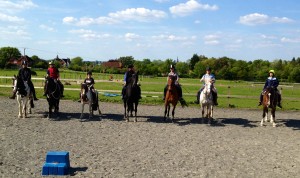 Clinics are ideal for those wishing to accelerate their horsemanship and cover theory and simulations as well as practical time with your horse. Learn and have fun with fellow students and see your relationship with your horse transform.
Clinics can range from 1-4 days and may have a specific focus or theme.
N.B. Clinics are usually based on specific levels and may have certain pre-requisites.
If you are interested in hosting a clinic and receiving a free place or would like to have a
clinic/workshop in your area please contact me to discuss details.
Spectators are welcome at clinics for a fee of £20 per day. This is a great to way to learn without having to bring your horse.  Spectators are included in simulations etc.
Please see schedule page for details of clinics/workshops. Booking in advance is essential for rider or spectator places.