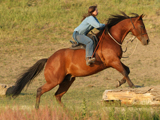 I was the pony mad girl who dreamt of having a special relationship with a horse for life. I did anything I could to be around horses even if I didn't get to ride them. At the age of fifteen, my parents bought me my first horse. A beautiful dun 15hh Arab x. She reared, bolted, bucked and rolled with me. So started my life with horses. The story continued and I just thought this was how it was and I got on with it. Without really
realising, my confidence was slipping away, but still I wanted these amazing animals in my life.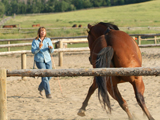 A couple of years after qualifying as a doctor, I took a sabbatical and went to work in a livery and hunting yard as a working student studying toward the BHS exams. I learnt a lot from an excellent instructor, but I just felt that something was still missing. After a few more years of being a freelance groom, I became a bit disillusioned with the horse industry and returned to the medical profession, in which I still practise.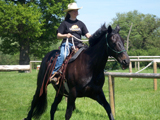 Then a special horse fell into my life. She was a beautiful black shire x TB who was due to be put down by her breeder but I thought I could get her going and find her a good home.  She was with me for the next 20 years!  It was because of her that I found Parelli Natural Horsemanship!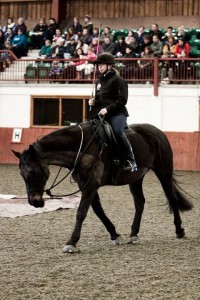 She was extremely unconfident and with my confidence ebbing away, we lacked trust in each other and were on the road to nowhere. Then I saw a tall Australian cowboy by the name of Dave Stuart, riding bridleless, casually jumping around the big arena at the South of England show and it blew my mind. I started learning about natural horsemanship without a second thought and after six weeks I could walk, trot and canter in a halter AND STOP! I was finally learning about leadership and my mare, Pumpkin, thanked me for it!
"When the student is ready, the teacher will appear".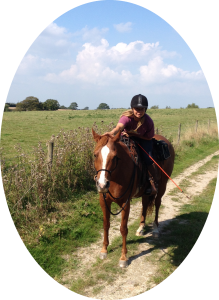 That was 2002. I attended a few courses in the UK and then I knew I had to head to the States to see Parelli Natural Horsemanship at the source, so in 2005 I attended the ten week school module in Colorado. Over the last few years I have spent a considerable amount of time at the Florida, Colorado and UK centres, having tuition from Pat and Linda Parelli and top instructors in their program.  In 2008 I gained a 1* rating in teaching, starting young horses and in foundation training.
In the following years I progressed to becoming a 3 star Licensed Parelli™ Professional and spent time teaching in the South East, assisting at the UK Parelli centre and travelling abroad. I have also been priviledged to have been part of the demo teams at Your Horse Live, the British Open, the Royal Show, Festival of the Horse and the European Dressage and Showjumping championships at Windsor, as well as other smaller demos, with my beloved black mare Pumpkin.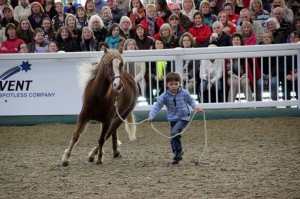 As well as teaching, my time is taken up by my herd of 5 horses and ponies and my young son.  Sadly my beloved mare passed away in 2013 but this gave me the time to focus on my young quarter horse and have the opportunity to study with some other celebrated horsemen and women.  I am currently developing him as my lead teaching horse and have goals to do some Trec and Working Equitation with him.  My Dutch warmblood is undergoing some emotional rehabilitation after 8 years of competing and my goal for him is to get back into the dressage arena with confidence, willingness and dignity. My son has developed a fantastic relationship with his pony and they made their debut at the Parelli Horse and Soul tour in 2013 at Aintree, in front of 2000 people. Proud mum moment! Kids are the future and I believe it's
so important for them to learn safe and natural habits from the beginning.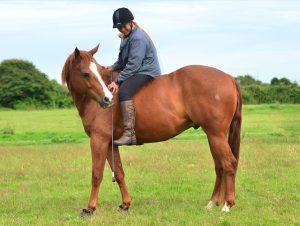 My goal is to help people find what I found, that you can have your dream of that special relationship and if you put that relationship first and have a solid foundation, then the rest will follow, whether that be enjoying a fun, safe hack or competing at high levels.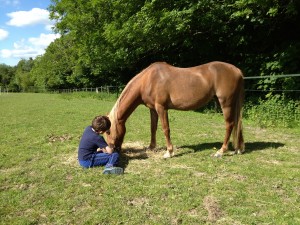 Thanks for stopping by and hope to see you somewhere along the road.