Spring & Summer 2019
Click here to see the Purpose Workshop series.
September 12th – 15th:
The South Downs

Horsemanship Experience – A seriously fun
adventure with your horse!
Sara de Vries and Terri Martinus
Venue: Parkfield Stables, Hurstpierpoint,
W. Sussex.
Principles to Purpose with a focus on ridden
progression supported by 2 experienced instructors.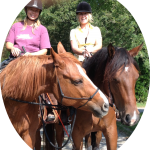 Focus:- Educational course
Instructor to student ratio: 1:3 (6 -7 places overall)
Hours tuition per day: 6-8 includes theory, simulations, horse time.
Aim:– to build confidence in you and your horse in more challenging situations and
continue to expand your general horsemanship knowledge with an emphasis on practical
situations.
Terri and Sara will guide you through a variety of horsemanship topics, preparations with obstacles and more challenging terrains.
Horsemanship sessions each morning and afternoon.  Tuition will also include simulations and theory time. 
Cost: South East Horsemanship Members £420 includes 4 full days tuition,
non-members £450
Free grass horse pens.
Teas/coffees/cold drinks provided.
Several local accommodations including travel lodge,
Premier inn, B&B's and camping. Please ask for a list. We are happy to put you in touch with other students to liaise regarding sharing accommodation. Please ask.
Electric hook up for lorries can be provided, (1 or 2 lorries can be accommodated on a first come first served basis £10 per night- NB no shower facilities).
*Contact Kathy Spence for a membership application form, kathybspence@googlemail.com
July 2019

:  Fun Summer Camp for Adults – The Horse Camp with a difference!
Sara de Vries and Terri Martinus

 ***Booking Now!***

  
11th – 14th July –

 

I

mmerse yourself in horsemanship with some fun and frolics along the way!
Amazing opportunity to progress your skills.
Not to be missed….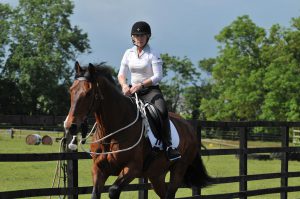 Venue: Plumpton College, East Sussex.  
Focus: Holiday course with tuition and free time
Instructor to student ratio: 1:5 per session, (20 places max overall)
Hours tuition per day: 3 x 1 hour workshops on day 2 and 3. Optional extra workshops and demo included.
Amazing facilities.  Check in will  be after lunch on day 1. You will have orientation and an optional workshop. You will then get workshops on groundskills, liberty work and ridden on topics such as obstacles training, preparing for dressage tests, pole work and posture. Plus extra optional activities such as the mechanical horse, pilates for riders taster session and an evening demo.  Day 4 morning activity to be confirmed, followed by presentations and check out.
There will be free time durng the course to enjoy the beautiful hacking on the South Downs direct from the College.
Cost: Includes all tuition with 2 instructors and 3 nights stabling (straw bed) and 3 meals per day for the rider (which are amazing!).
South East Horsemanship members £285
Non members £300 (Contact kathy at kathybspence@gmail.com for member info).
Shavings bed available on request for an additional £40 for the duration of camp (set by the venue).
Riders are required to stay on site and hence can enjoy the full camp experience: 
Single room with sink for 3 nights(college rooms are comfy and clean, very good price!). – £90 
Shared (but private) showers and bath. Comfy lounge with TV.
Camping/stay in your lorry for 3 nights (no hook up) – includes use of showers, lounge etc. £30.
Relax in the lounge or in the campus bar after dinner and share stories of your day.
Contact Terri at info@1withyourhorse.com to book.