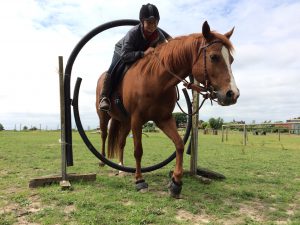 Aim: These workshops are designed to help support your progress on the ground and in the saddle.  Workshops may include theory and simulations as well as practical time with your horse.  Students will be encouraged to practice "homework" in between sessions. They will cover all aspects of horsemanship, but will focus on putting principles into practice.
Focus: These workshops will help build a solid foundation and especially for those who have an interest to go on to agility, trec, entry level dressage, working equitation, cowboy dressage etc.  Horses and humans learn best when there is a purpose to the training. We will cover obstacles, flatwork, pole work, riding in open spaces and at higher speeds.  
Travelling your horse regularly to new environments can greatly increase confidence in horse and human and committing to monthly study means you will be able progress at your own speed and confidence level in a safe and friendly learning environment.  Also, suitable for young or inexperienced horses.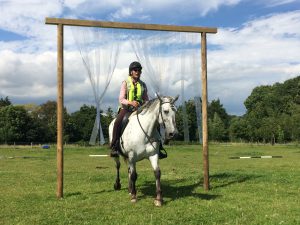 Groundskills, liberty work and ridden will be incorporated into the workshops and numbers are kept small to maximise learning.  Ideally taken as a course of all 4 workshops.
Early booking recommended as limited spaces –  
2019 dates to be confirmed. Please register interest with Terri info@1withyourhorse.com
If you would like to organise a progress series of any level in your area, please contact me.
Parkfield Stables, Hurstpierpoint, W.Sussex.
*If workshops are full, places do sometimes become available so well worth registering on the wait list.  I can also run another series if there is more interest, so please contact us.
Cost: SEH members £45 each or £160 for all 4 workshops saving a further £20!
Non-members £50 each or £180 for all 4 workshops saving £20
Free horse pens for use during breaks.
For South East Horsemanship membership info, please contact Kathy at kathybspence@googlemail.com or click here to find out more
Time: 10am – 3pm (approx finish time)
Tea/coffee provided.
Spectators welcome, £10 per day (please reserve a place in advance, pay on day).